Thursday, September 15th, 2016
THE WAY I WORK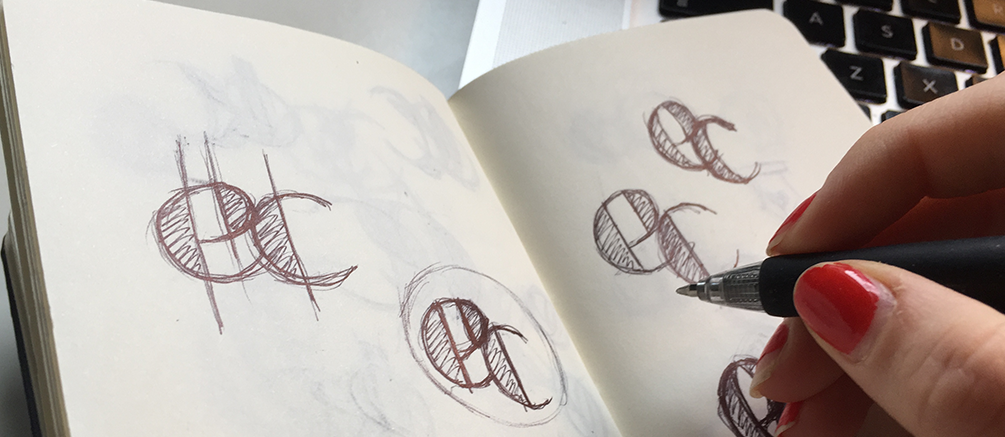 It's always one of the first questions clients ask me: What's the process? How do we work together?
Well, in truth, the specifics do vary from client to client but the rough outline is usually the same.
Step One: Meeting my client
If at all possible I always like to meet with my client in person at the beginning of a project, particularly those who are small business owners. It allows me to get to know the people behind the business, what they like and get some ideas flowing.
I like to work closely with my client to produce their website, brand or whatever they're asking for. Particularly with branding, it's important that the logo and final look of the brand conveys not only what the business does but also the culture and aspirations of the business in order to appeal to the correct audience.
Step Two: Establishing the brief
During our first meeting I will have noted lots of details down. I like to follow this up with an email confirming what we have discussed and a quote for the work with a rough idea of timescale. Once the client has confirmed they are happy to proceed I can get started.
Step Three: Moodboards
When working on larger projects I always start by producing two or three moodboards. They convey the different approaches we could take towards the final product using sample imagery, typography and colours etc.
Step Four: Initial Concepts
At this stage I will produce a number of rough concepts that further the the ideas discussed during the last stage.
Sometimes clients are happy to simply develop just one concept. Other clients like parts of several concepts and I will rework these elements to fit with each other.
Step Five: Finalising The Design
Often artwork will go back and forth several times to get to a point where the client is completely satisfied with the design. Once the artwork is approved it will depend on the type of project what happens next.
With web based projects where the client has their own developer or development team I will make sure that the artwork is cleaned up as much as possible and delivered as both a layered file and flat artwork. This allows the developer to cut up the artwork as required.
Alternatively, if I'm building the website we will select a platform such as WordPress, Squarespace or a hosting package with domain registration and I will adapt the build to suit the platform as much as possible.
With branding or other projects where the artwork is the final product I will provide the various elements in the required formats and sizes.
Step Six: Bug Fixes / Amendments
I always agree an amount of time to do any bug fixes or amendments. It allows for flexibility and correcting any unforeseen issues.
Step Seven: Maintenance
I'm always happy to quote for maintenance jobs on websites or updates to documents.
Overall I try to be reasonably flexible with my design process. It's a process that has evolved over time and will probably continue to evolve as long as I am still working (which I hope will be for a long time to come). I like to make my clients happy but not at the expense of quality. I hope that the work I produce both meets and exceeds my clients expectations as does my service.
Thank you for reading! If you're interested in what I do why not take a look here or email me at hello@designedbyelly.com
---
Deprecated
: Theme without comments.php is
deprecated
since version 3.0.0 with no alternative available. Please include a comments.php template in your theme. in
/home/hp3-linc2-nfs2-z/983/407983/user/htdocs/wp-includes/functions.php
on line
4973